Professional Services

Determined to be your long term partner, we are always prepared to provide the best IT solution along with quality professional services for your consideration.

Our professional services are defined in accordance with the life cycles of typical IT projects:



Requirement Analysis
Design
Planning
Implementation
On-going Support
Upgrade and Migration

It's always a wise decision to get help from someone in the trade to help you out in the tasks that you are not familiar with. With the help of professionals, you can be sure that the job will be done in time, the chance of failure will be minimized and you can put your valuable time and effort to other important tasks.

With years of practical experience in large-scale projects, our professional sales and technical support teams are well qualified to live up to your expectation.

For more information about our professional services, talk to our consultants now.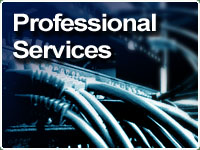 » Startup Services
» Upgrade and Migration Services
» REE Removal Service