Company Overview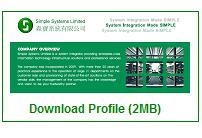 Simple Systems Limited is a system integrator providing enterprise-class information technology infrastructure solutions and professional services.

The company was incorporated in 2009. With more than 20 years of practical experience in the operation of large I.T. departments on the customer side and provisioning of state-of-the-art solutions on the vendor side, the management of the company has the knowledge and vision to be your trustworthy partner.

Mission

Surfing in the forefront of information technology, we understand the confusions and difficulties you face in searching for the best solutions that meet your financial and operational needs.

Ever since the beginning of the computer era, information technology has never stopped advancing. Today, many companies and organizations continue to face great challenges in maintaining legacy systems and building up new ones, because of shrinking budgets and shortening product life cycles.

Simple Systems Limited is positioned to bridge the gap between information technology and our customers. By focusing on industry standard solutions, coupled with the strive-for-excellence attitude of our professional service teams, we are determined to take the extra step to make your projects successful.

The solutions that we recommend always start with the full understanding of your business needs, followed by the consideration of cost, performance, reliability and scalability, then finish with the successful implementation in a straight-forward and risk-free approach.

The infrastructure solutions that we are keen on include server system platforms, high availability solutions, virtual machines and thin clients, networked storage solutions, data protection solutions, database management systems, business essential applications and office automation systems.

Our Philosophy

At Simple Systems Limited, we believe "simple is beautiful".

This is very true when it comes to system integration. In a typical project, a long list of hardware and software products from various vendors is usually involved. By confining the project to the components that are absolutely necessary - nothing more, nothing less - not only can we implement the solutions smoothly, but also within the budget and schedule.

Contact us now to experience how system integration can be made simple at Simple Systems Limited.