Server System Platforms




There are two main categories of server systems in the market.

Industry Standard Server Systems Based on Intel and AMD processors from HP and IBM

Whether you are looking for an entry level server for file sharing and printing for your new business or department, setting up a few servers for your ERP system for your sales office in Hong Kong and factories in China, or establishing a server farm to support your online trading systems on the web, you have many choices of the operating systems and hardware servers.

Microsoft Windows Server is a popular choice, but recently Red Hat and SUSE Linux are gaining momentum as more and more applications are available for Linux and the reliability of the operating systems has been increasing.

For applications running on these operating systems, many IT professionals consider the Intel or AMD processor based servers from HP and IBM. Both vendors provide a wide variety of choices to customers. For example, tower models, rack-mountable models and recently blade systems that are designed for green IT.

In addition, disk storage, tape storage and network connectivity options for these server systems are amazingly abundant. You can attach external disk and tape devices to these servers via Fibre Channel, iSCSI, SAS or any combination of these standards, giving you the greatest flexibility in meeting the budget and schedule of your projects.

On the other hand, virtual machine is the hottest topic in the industry, if not cloud computing. Some large enterprises have started incorporating virtual machine as a standard layer between Windows and Linux, and the server hardware. With this server virtualization layer, customers can easily implement HA and DR capabilities to their applications.

Enterprise Server Systems for Mission Critical Applications from HP, IBM and SUN

For many years, customers have been relying on HP-UX, HP OpenVMS, IBM AIX and SUN Solaris to run their mission critical applications. The reliability and performance of the systems are undoubtedly the best in the industry.

If you are planning to implement a rock solid platform for your core applications with high availability or disaster recovery capabilities, these platforms should not be missed.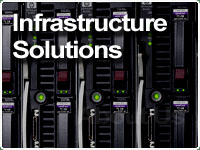 » Server System Platforms
» High Availability Solutions
» Virtual Machines and Thin Clients
» Networked Storage Solutions
» Data Protection Solutions
» Database Management Systems
» Business Essential Applications
» Office Automation Systems
» Our Business Partners