Data Protection Solutions




It's never an easy task to protect your data. Detail analysis of your business operation and careful planning of staging your valuable data are often the primal tasks before you can come up with the blue print for your data protection need.

Unfortunately no one single solution is able to take care of your data at all stages including data creation, retention, archiving and deletion.

Backup Software Suites

Backing up data to magnetic tapes is still the basic requirement for computer operation. Though the market has introduced disk-based backup solutions and advanced remote data replication methods, tape backup is still a reliable and cost effective way to protect your data.

In addition to offline backup, almost all backup software products allows online application and database backup through agents.

Many backup software suites are available: Symantec Backup Exec and NetBackup, CA ARCserve, HP Data Protector, EMC Legato Networker, IBM Tivoli and many more.

Data Replication

Besides tape backup, many customers also want to have their data protected at a second level by replication to a remote location over WAN links. Real-time online replication solutions are not difficult to find. For example, HP Storage Mirroring, Double-Take Availability, Veritas Volume Replicator and CA ARCserve Replication are worth considering.

Data De-duplication

De-duplication offers a whole new approach to tackle today's data explosion problems. By saving the physical contents once at the disk and tape media, then using "pointers" to link the saved physical contents for subsequent backups, data de-duplication solutions are able to back up data 30 to 50 times the capacity of the physical disk or tape storage systems.

Data de-duplication solutions are available in the market in many forms: Backup software suites, application-aware software, and physical and virtual tape libraries.

Disk-to-Disk-to-Tape Backup

Backing up data to disks is affordable nowadays. Many backup software products and tape libraries offer functions and features to make D2D2T backup simple and easy. Unlike tape backup, restoration of individual files or a single mailbox from disks is much faster than from tapes. To meet your data protection need, you may consider D2T, D2D or D2D2T backup solutions.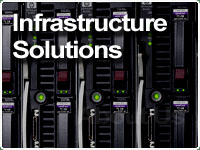 » Server System Platforms
» High Availability Solutions
» Virtual Machines and Thin Clients
» Networked Storage Solutions
» Data Protection Solutions
» Database Management Systems
» Business Essential Applications
» Office Automation Systems
» Our Business Partners