High Availability Solutions




There are many alternatives if you are looking for high availability solutions.

Microsoft Windows Cluster and Veritas Cluster Server

If you are running Windows, the obvious choice is Microsoft Windows Cluster Server. Another popular choice is Veritas Cluster Server. Both solutions are based on a shared nothing architecture, which means only one server node has access to your data. When the primary server stops running, the other server picks up the data on the shared disk storage system; then resumes the application service to the users. There is a short period of system down time.

VMware vCenter Server

VMware vSphere and vCenter Server are the most popular solutions of server virtualization in the market. Not only do vSphere and vCenter provide a bare-metal virtualization layer on server hardware, but also offer centralized management of virtual machines, HA and DR capabilities.

Marathon everRun HA & FT

The third solution is called everRun HA & FT from Marathon Technologies. The solution allows customers to set up high availability or fault tolerant systems for their applications such as Exchange, SQL Server or SharePoint based upon two standard Windows Servers with shared or standalone disk storage. When set up with Level 1 data protection for HA, the application can fail over to the secondary server, if the primary server is down. At Level 2 data protection for FT, the application continues to run without interruption.

Neverfail HA & DR

Another solution that you may be interested is neverfail HA & DR. Similar to everRun HA & FT, this solution does not require any shared disk storage for the primary and secondary servers. After setting up two standard Windows Servers with a heart-beat link, you may install Windows and your applications to the primary server. Then configure the operating systems according to your specific requirements. The set-up job is done, because the works done on the primary server are automatically replicated to the secondary server. Now, if the processor of the primary server fails, the application can fail over to the secondary server.

HP MC Service Guard and HP OpenVMS Cluster

Both HP MC Service Guard and OpenVMS Cluster provide enterprise class HA capability for running mission critical databases or online transaction processing systems. Both solutions have a long history of success and continuous support in the market.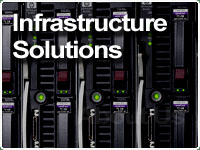 » Server System Platforms
» High Availability Solutions
» Virtual Machines and Thin Clients
» Networked Storage Solutions
» Data Protection Solutions
» Database Management Systems
» Business Essential Applications
» Office Automation Systems
» Our Business Partners