Virtual Machines and Thin Clients




Virtualization of servers and personal computers is hot, largely because of the robust virtual machine technology, decreasing costs and increasing processing power of physical servers and affordable network bandwidth.

Today, many companies and organizations are busy implementing virtual servers and virtual desktop PC to take advantages of the technology.

VMware vSphere

VMware vSphere and vCenter is one of the most popular server virtualization solutions in the market. Not only does VMware provide a centralized management tools for virtual machines, but also integrated backup, HA and DR capabilities.

About data protection, VMware Consolidation Backup (VCB) allows customers to make the best use of their disk arrays to create snapshots and clones for off-host backup to minimize or even eliminate application down time. The comprehensive functions and features make it an attractive solution that customers are longing for.

Other Virtualization Solutions

Other well known server and PC virtualization solutions in the market include Citrix XenServer & XenDesktop, Microsoft Hyper-V Server, Novell SUSE Xen, Oracle VM, HP Virtual Server Environment, HP Integrity VM and Stromasys Charon.

HP Thin Clients

When you are planning for virtualizing your personal computers, one important step is finding the right thin clients to talk to the virtual machines. HP has a comprehensive portfolio of thin clients and accessories that support many of the desktop virtualization solutions in the market, for instance, VMware View, Citrix XenDesktop and Microsoft Hyper-V Server.

HP Thin Clients are certified with Virtual Desktop Infrastructure or VDI. Also, customers may choose any of the following protocols to connect their thin clients to the virtualized machines: Microsoft Remote Desktop Protocol (RDP), Citrix Independent Computing Architecture (ICA) or HP Remote Graphics Software (RGS).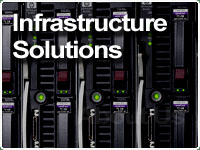 » Server System Platforms
» High Availability Solutions
» Virtual Machines and Thin Clients
» Networked Storage Solutions
» Data Protection Solutions
» Database Management Systems
» Business Essential Applications
» Office Automation Systems
» Our Business Partners