The HP StorageWorks EVA is designed to simplify storage management. Yet, many people may not know that it also removes disk I/O bottleneck and stranded capacity automatically.

Boosting Productivity by Automatically Eliminating I/O Bottleneck

Is your business suffering from the poor performance of your application due to I/O bottleneck, even though you have spent countless hours on it? Now you can put an end to this problem without changing your application or database.

As shown in Figure 1, suppose Drives D and E are configured in RAID-5 with 3 members each, and Drive F is set up in RAID-1 with 2 members for a database application. It is common that over a period of time, hot disks start to emerge as a result of increased transactions or changes in business environment. With traditional array, I/O requests are directed to a few physical disks only. When the load is heavy, I/O requests start to queue up, in this case on Drive D, causing the application to slow down.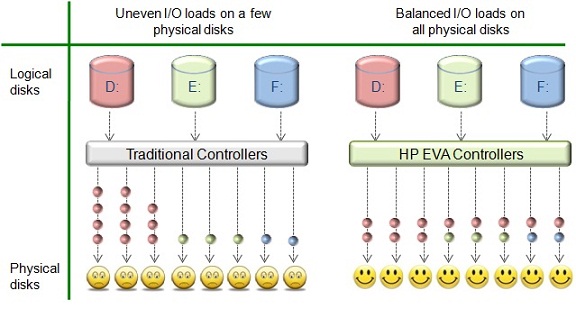 Figure 1 - Comparison of I/O loads between traditional and HP StorageWorks EVA disk array.



Thanks to the unique and proven Virtual RAID technology built into the HP StorageWorks EVA controllers, I/O loads are evenly distributed to all spindles. The chance of bottleneck is automatically reduced or even eliminated. The more spindles, the better the I/O performance. Better still, I/O requests from multiple servers running different applications can also be balanced automatically.

Supported Operating Systems and Databases

The HP StorageWorks EVA Disk Array supports many operating systems, databases and applications. For example, VMware, Windows, Red Hat, SUSE, HP-UX, OpenVMS, AIX, Solaris, SQL Server, Oracle, DB2, MySQL, Exchange and Lotus Domino.

Contact us now at 3576-3000 or email to enquiry@simplesystems.com.hk for more information.



Released on 11-Aug-2010